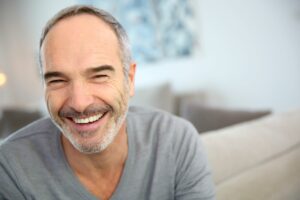 The best part of having your implants done by The Norterra Dentist is the security and convenience of having the entire tooth replacement process completed by one doctor, in one place. From diagnosis to placement, everything is taken care of here. No need to worry about visiting multiple practices.
What Are Dental Implants?
Dental implants replace missing or removed teeth to restore the functionality of your mouth. By placing little titanium rods into the jawbone, a dental crown, bridge, or denture can be placed on top. This restores the chewing surface as well as provides a long-lasting fix that you would treat just like any other tooth.
Dental Implants Cover a Variety of Needs
One tooth needs replacing: A dental crown will then be placed on the implant.
A couple of teeth need replacing: The use of a dental bridge will cover that gap.
A full arch of teeth needs to be restored: Removable, snap-on dentures can help!
Benefits of Tooth Implants
A dental implant provides a strong, safe connection with the jawbone and actively protects it! By acting like a natural tooth, an implant can help you enjoy all of your favorite foods without limitation. This means that you should also brush, floss, and use mouthwash as you normally would. With The Norterra Dentist, the entire process can be done all in one place!
Complete Treatment at The Norterra Dentist
When it comes to dental implants, we can offer our patients something they can't find at many other practices: full tooth implant treatment. From beginning to end, you can get your treatment completed right here in Phoenix, AZ!
The Dental Implant Process
Because The Norterra Dentist offers full implant treatment, we can walk you through it the whole process here.
Evaluation and Diagnosis: Our dentist will complete a full examination to determine your current condition to design a custom treatment plan just for you. This includes but is not limited to:

Taking x-rays to check the health of your teeth and jaw.
Creating a digital scan of your mouth.
Discussing your medical conditions and medications.

Tooth Extraction: If you need it, we will remove any remaining teeth meant for replacement. This is done with sedation and can be done at the same time as your dental implant placement. After your extraction, you should:

Avoid blowing your nose.
Do not smoke or spit.
Do not drink through a straw.

These actions can aggravate the wound and cause added pain.

Bone Graft: Your jaw needs to be strong and healthy to house the placement of the implant. If there is damage or jawbone decay, our dentist will proceed with a bone graft to build up the strength in your jaw.

The Norterra Dentist does this procedure in-house as well.
You may have to allow the graft to heal before the implant is placed.

Implantation: This is where our dentist will place a tiny titanium rod into the jawbone. This implant acts just like the root of your existing teeth, anchoring your new tooth while also providing healthy stimulation to the jaw.

Some patients can have a bone graft and implantation done at the same time.
The timeframe for healing is about 4 to 6 months, then your crown will be placed.

Abutment Placement: Once your implant has healed enough, we will then place an abutment on top of the implant. This allows the implant to connect to your crown, bridge, or denture. This process involves a little pressure, but nothing more.

Our dentist will add a healing cap to disguise the area since it will be visible.
The healing cap also prevents the gums from overlapping the abutment.

Tooth Replacement: crown, bridge, or denture (dentures are removable). If you've selected a permanent option, the cap is attached to the abutment securely.

Removable dentures can snap on and off for easy cleaning.
You can not remove other appliances yourself.
Other Tooth Replacement Options
Dental implant surgery is a process that can't be done in just one visit. Luckily, there are more options available to you for your consideration if they suit you better!
Dental Bridge: Much like the name suggests, this method bridges the gap created by one or two missing teeth. Bridges are supported by anchoring teeth, known as abutment teeth, with an artificial tooth in between.
Traditional Dentures: This long-standing method is known for its historic success and affordability. They are custom-made from an acrylic base with a set of artificial teeth and are removable for easy cleaning.
Not Replacing the Tooth at All: While this may seem like a cheap option, you are leaving yourself susceptible to more serious complications. You have a greater chance of infections, jawbone deterioration, and shifting teeth, which leads to bite problems.
Am I a Candidate for Dental Implants?
Even if you are experiencing decay or jawbone deterioration, The Norterra Dentist can perform a bone graft to help patients who would otherwise not be eligible for this life-altering treatment. Since we offer the entire range of dental implant procedures, we can help you reach your goals for a perfect, healthy smile.
How Much Does a Tooth Implant Cost?
When compared to the replacement of other hard structures of the body, dental implants are a fraction of the cost not just financially, but recovery-wise. Most patients can go on with daily life and their ordinary routines within days, all with the benefit of regained chewing and speaking abilities.
We understand that the cost of treatment is very important to our patients. Our experienced doctors want to work with you on the treatment plan that will work for you and your specific goals. With the use of advanced technology, such as digital imaging and unique material selection, we can get you on your way to the smile of your dreams.
If You'd Like More Information, Give Us a Call Today!
Dental implants can't be done all in one session, but they can be done all in one place! The Norterra Dentist will be there for you throughout the entire process. Reach out to us and request an appointment! We'd love to hear about your goals and will create a personal roadmap just for you.
You May Also Be Interested In
This page has been reviewed for medical accuracy by Dr. Roopinder Mann, owner of The Norterra Dentist and graduate of University of Illinois Chicago College of Dentistry