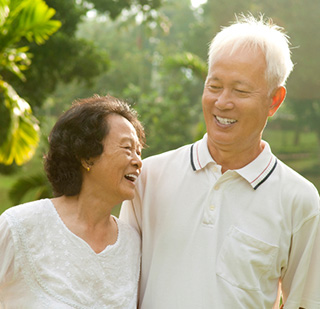 The Norterra Dentist can help you reach your smile goals all in one place! You don't have to worry about scheduling with multiple doctors and enduring the run-around. We can provide you with peace of mind when it comes to your procedure.
What Are Implant-Supported Dentures?
Implant dentures are a permanent choice that allows you to snap the denture on and off at your leisure. They're a great alternative to traditional dentures for those looking for something long-lasting while easy to clean and maintain.
The process involves the placement of tiny, titanium rods into the jaw. This allows your body to still recognize that you do have teeth, keeping the jaw stimulated and protected from sensitivity and decay.
Benefits of Implant-Supported Dentures
Implant-Supported Dentures restore the chewing surface while providing you with a natural appearance. Unlike traditional dentures, you erase the possibility of gum lesions from slipping and friction. Plus, no more fussing with messy adhesives!
This choice is great for those who:
Are looking for an easy-to-clean and maintain option.
Want a sturdier, more reliable denture without adhesives.
Still want the flexibility of a removable denture.
Compare Implant Dentures vs. Traditional Dentures
Implant-supported dentures are a step above traditional dentures for their strength, security, and longevity all while maintaining the perks of a removable tooth replacement option. The Norterra Dentist utilizes the advancement of technology such as the iTero intraoral digital scanner and All-on-X method to give you a more comfortable and accurate procedure option.
While they do cost more, they do more for you! They are a worthy investment of your time and money.
Traditional Dentures are renowned for their historical use and success. However, they can still slip out of alignment as you eat or speak. That aside, they are still a great option and have a great price. They give you the value you pay for, which is the ability to speak and chew properly again. In other words: priceless.
Which option is best for you depends on your situation. We also offer other replacement options that might suit your needs as well.
Single Dental Implants
Replace one or more missing teeth.
Are easier to maintain than a dental bridge.
Retain bone tissue with a lifetime of functionality.
Snap-On Implant Dentures
Have the ability to replace a full arch of teeth.
Are more stable and reliable than traditional dentures.
Restore your ability to speak and eat while still looking natural.
All-on-X Implant-Supported Dentures
Give you the most out of the fewest implants.
Provide fully functioning teeth the same day as your procedure.
Preserve your facial features by retaining bone structure.
Implant-Supported Dentures in a Single Location!
Unlike many of our competitors, we offer the full implant placement process in one location! Some dentists may have to refer you to an oral surgeon for the implant placement while they can only fasten the dental crown or dentures on top.
But here at The Norterra Dentist, our dentists have received post-graduate training to be able to provide this incredible service. You can get your implant dentures with us from start to finish!
Am I a Candidate for Implant-Supported Dentures?
Even if it's been a while since you've seen a dentist, our professional team of experienced staff can craft a personal roadmap for your specific needs. The Norterra Dentist understands that we all have a unique smile and budget, and we will help you pick the option that is right for you!
I'm wary of surgery: This is a completely normal and well-understood fear. The Norterra Dentist team understands that surgery can be uncomfortable and nerve-wracking, but we are here with you every step of the way and offer a variety of amenities including sedation dentistry to provide you with a positive experience.
I'm feeling shy about my teeth: Your smile is one of the first things people notice about you. We want to give you the confidence and peace of mind of a healthy smile so you can enjoy any social event without insecurity. Our career is all about empowering our patients so that each time you leave our office, you can smile brighter!
Will it work for me? Bone loss is a common symptom of losing a tooth. However, our skilled professionals can restore this damage with the use of a bone graft. This is done during the placement process and will allow your jawbone to return to its full strength once more. Eat, drink, and laugh just like you used to!
Give Us a Call Today to Learn Which Denture Option Is Right for You!
Our offices are entirely judgment-free. We want to provide you with the care you need, regardless of how long it's been since you've seen a dental professional. Get in contact with us, we'd love to see you as soon as possible!
You May Also Be Interested In
This page has been reviewed for medical accuracy by Dr. Roopinder Mann, owner of The Norterra Dentist and graduate of University of Illinois Chicago College of Dentistry