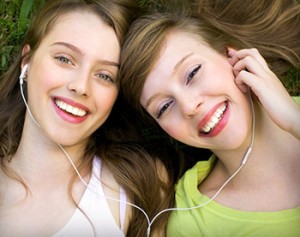 Good hygiene is not only important for social situations but as a lifelong routine that mitigates the risk of periodontal disease and bad breath. The Norterra Dentist believes in the power of prevention and education—it's never too early to start healthy habits.
General Oral Health
These family dental care tips are useful for the entire family and foster healthy habits that they can carry forward throughout their lives!
Brush your teeth: This seems like a no-brainer, but it needs to be said. Did you know that plaque and tartar can do the most damage during the night?
Protect yourself by brushing before and after you sleep at the minimum.
Brushing after meals throughout the day is another great way to prevent plaque.
The proper way to brush: Consider using an electric toothbrush, or a manual toothbrush with soft bristles.
Take your time with your teeth cleaning. Brush for about 2 minutes at a time.
Move the brush in gentle, circular motions to release plaque and any leftover debris.
Remember your tongue: Plaque doesn't just stick to your teeth and gums, it also likes to latch onto your tongue.
Avoid the development of bad breath or other periodontal issues.
Brush your tongue in the same way in which you brush your teeth.
Toothpaste matters: Don't just focus on whitening capabilities, a good toothpaste will contain fluoride.
Fluoride is a mainstay in oral health for its protective capabilities.
Your toothpaste should fight against tooth decay and protect your teeth.
Flossing is essential: For those hard-to-reach areas like between teeth, only flossing can remove any food remnants like popcorn kernel shells.
Flossing stimulates your gums, increasing their overall health.
It also reduces plaque and lowers general inflammation of the area.
Consider a mouthwash: Mouthwash with a good fluoride content reduces the overall acids in the mouth, cleans hard-to-brush or floss areas, and helps add a protective layer to your teeth.
A good mouthwash remineralizes the teeth, making them stronger.
Mouthwash can be particularly helpful for children or the elderly.
Family Dental Care
We encourage parents to bring their children in for a visit 6 months after their first teeth begin to emerge. Our experienced, patient staff will teach your children that an office visit isn't so scary, and it can even be fun to learn how to brush their teeth all by themselves! The following are some common elements of family dentistry that could benefit your family:
Teeth Cleaning: Did you know that a professional teeth cleaning is 40% more effective than your typical at-home routine? Prevention is the key to sustaining your overall oral health and at The Norterra Dentist, we believe in sharing our knowledge with you and your children to instill good habits from an early age.
Regular Dental Exams: The American Dental Association recommends that you visit your dentist at least once a year for a routine exam and teeth cleaning. Typically, we would like to see our patients once every 6 months so that they get the security and care they deserve. This is a great way to prevent periodontal diseases.
Promoting Healthy Gums: Plaque and tartar don't just target your teeth and form cavities, they will also attack your gums leaving them sensitive and easy to bleed. Adding flossing to your routine will stimulate your gums and remove any remaining debris that your toothbrush couldn't quite reach. Leaving you with a healthier smile.
Cavity Prevention and Repair:It is always our goal to prevent cavities before they can form, but we understand that our high-sugar, high-acid diets can speed the process up. Smokers are also at a higher risk for cavities than others. Our dentist will repair your cavity before it can spread and become dental decay.
Early Dental Care
We want to welcome your children into a calm, warm environment where they can begin to learn the practice of good hygiene and be proud of themselves by doing so. We recommend starting at one year of age, or 6 months after their first tooth. This way, our dentist will be able to track their growth and development.
Senior Dental Care
Our teeth become more susceptible to damage as we age, but you don't have to just accept that! The Norterra Dentist offers a variety of family dentistry services to turn back the clock, such as whitening treatments and veneers. Your goals are our goals, and we want to give you a custom treatment plan for a better, more radiant smile.
For Quality Care That Covers the Entire Family, Call Us Today!
Regardless of age, dental hygiene is an important part of self-care and maintenance. It's never too late to adopt healthy habits. Contact us today for a teeth cleaning and we will guide you to a healthier, brighter smile with family dental care!
You May Also Be Interested In
This page has been reviewed for medical accuracy by Dr. Roopinder Mann, owner of The Norterra Dentist and graduate of University of Illinois Chicago College of Dentistry